The Meghalaya Rural Backyard Piggery Scheme was launched by Chief Minister Conrad K Sangma on Wednesday. The scheme tries to make sure that farmers can support their way of life through various livestock agricultural endeavours.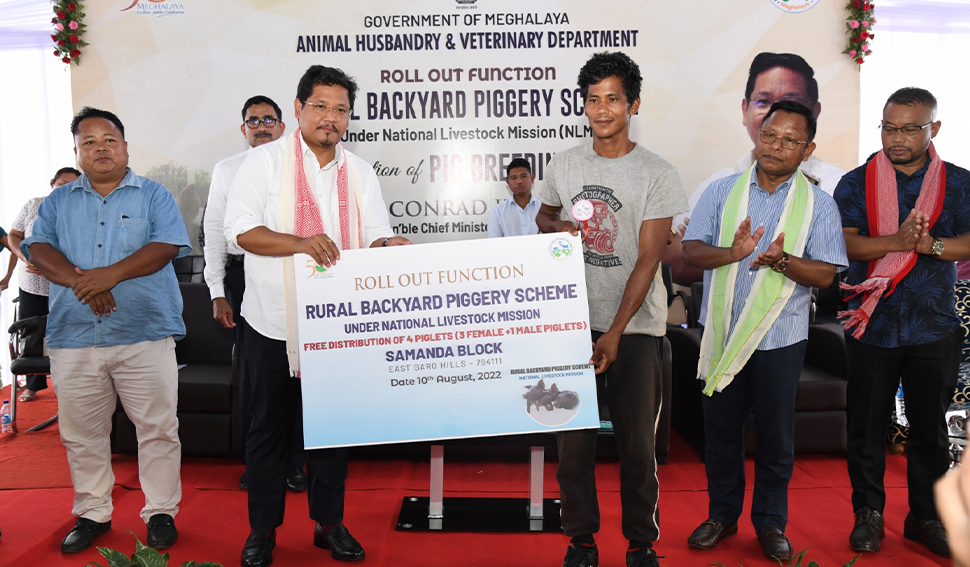 Meghalaya Rural Backyard Piggery Scheme
The government introduced the "Rural Backyard Piggery Scheme" supported by the Central Government under the National Livestock Mission and also the State Government, to further explore the possibilities of the piggery sector. On August 10, the programme was introduced in the East Garo Hills district's Samanda block
At the launch of the National Livestock Mission's ambitious flagship programme for farmers in the Ri-Bhoi district of Byrnihat, it was claimed that the government is successfully enabling farmers to generate income and enjoy economic prosperity through a variety of welfare programmes. The scheme provides financial support to farmers.
Details of Rural Backyard Piggery Scheme Meghalaya
| | |
| --- | --- |
| Name of the scheme | Meghalaya Rural Backyard Piggeryscheme |
| Launched by | Meghalaya government |
| Launched on | August 10 |
| Beneficiaries | farmers |
| Objective | support farmers in living a better life |
Objective of Meghalaya Rural Backyard Piggery Scheme
Meghalaya imports 18,000 MT of pork from various States and there is a significant imbalance between supply and demand. Through the piggery programme, the state intends to rectify this issue. The Government's flagship initiative, "Progress," was designed to assure the prosperity of low-income people through livestock intervention, including pig farming, poultry farming, etc.
The state government's main initiative, Progress, was designed to assure the prosperity of low-income families through livestock intervention, which includes raising pigs, chickens, and goats.
Rural Backyard Piggery Scheme Benefits
Farmers responded well and expressed their appreciation for the programme.In accordance with this scheme, farmers will receive 4 piglets—3 female and 1 male—to encourage pig breeding and supplement their monthly income. Each beneficiary will receive a livestock package worth Rs 25,000.6000 marginal and impoverished farmers are expected to gain from this programme, which will also enhance the state's pork output.
Eligibility for the Scheme
This scheme is primarily meant for the farmers. The scheme gives opportunities for income generation and assures the farmers' economic development.
Features of Rural Backyard Piggery Scheme
The government has allocated Rs 15.18 crore under the scheme – phase-1, under which four high-yielding upgraded varieties would be provided to 6000 families.
The Chief Minister announced that an additional Rs 25 crore will be set aside to launch the program's second phase.
The Meghalaya Piggery Mission, one of the major piggery development programmes, is being carried out by the government to make the State self-sufficient in pork.
Zero interest loans are made available under this mission for pig raising and fattening. A loan totalling Rs 43.67 crore has already been obtained by 250 cooperatives for pig farming, according to an official.