NIPUN Bharat Mission:- The National Initiative for Proficiency in Reading with Understanding and Numeracy (NIPUN Bharat Mission) was started by the Ministry of Education in 2022 to guarantee that by the end of Grade 3 in 2026–2027, every child in the nation has attained fundamental literacy and numeracy. The national implementing organization will be led by a Mission Director and housed inside the Ministry of Education's (MoE) Department of School Education and Literacy. Read below to get detailed information related to the NIPUN Bharat Mission 2023 like objectives, features, Results, and much more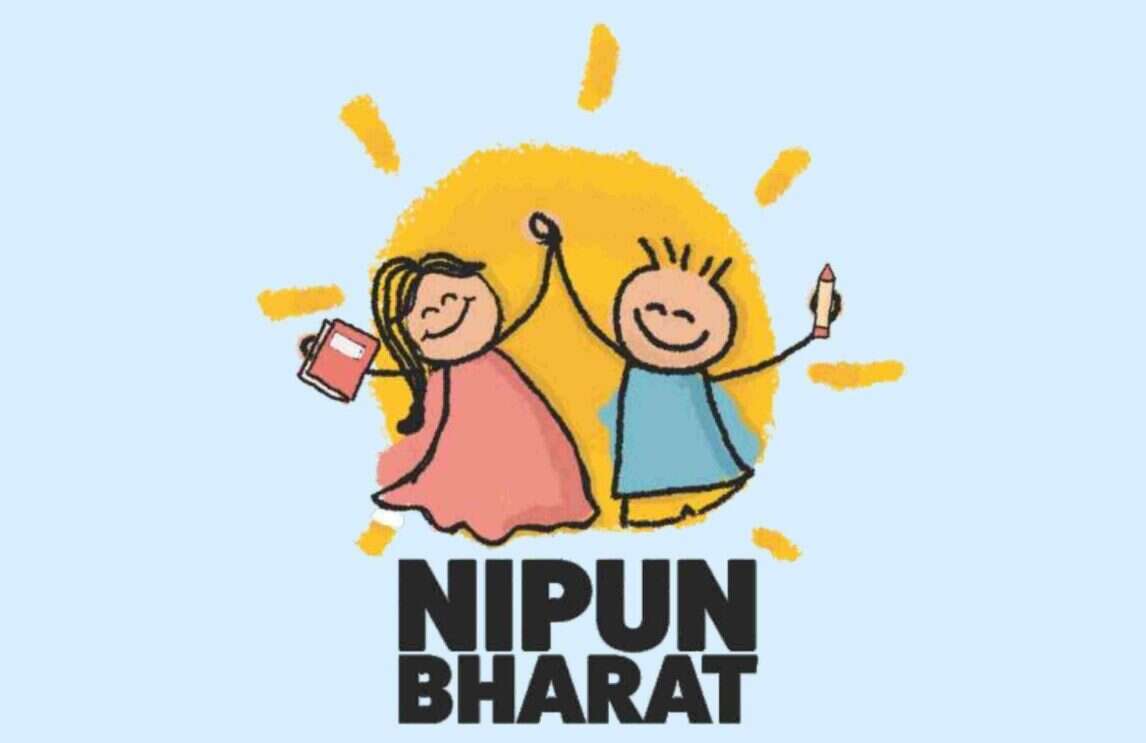 NIPUN Bharat Mission 2023
The Ministry of Education introduced the NIPUN Bharat anthem, NIPUN Bharat Guidelines, and a brief film. The National Mission, which has been launched under the auspices of the federally funded Samagra Shiksha program, will concentrate on ensuring access to and retention of students in their foundational years of schooling, building teacher capacity, creating high-quality, diversified student and teacher resources/learning materials, and monitoring each student's progress toward meeting learning objectives. Every child has to have basic language, literacy, and numeracy skills developed by teachers for them to become better writers and readers. As a result, NIPUN Bharat aims to make the foundational level of learning Holistic, Integrated, Inclusive, Enjoyable, and Engaging.
Achieving foundational literacy and numeracy (FLN) for all children must become an urgent national mission, according to the National Education Policy 2020. Accordingly, the Department has created a thorough guideline for NIPUN Bharat through a series of thorough engagements with implementing partners and experts to make it flexible and collaborative.
NIPUN Bharat Mission Lakshya
Nipun Yojana has been launched by the Central Government and was started on 5th July. The main objective of this scheme is to develop Basic Literacy and Numerical Knowledge for the students. Through this scheme, by 2026-27, students will have the ability to learn reading, writing, and arithmetic up to class III. This scheme will also help a lot in the development of the children. Under this scheme, all children can learn basic literacy and numeracy knowledge on time.
NIPUN Bharat Mission 2023 Features
Some of the key features of NIPUN Bharat Mission 2023 are as follows:
The Mission's aims are unusual in that they are set as Lakshya Soochi or Targets for Foundational Literacy and Numeracy (FLN)
The Laskhyas are based on learning objectives created by NCERT, as well as on global research and ORF studies
The Lakshyas have been developed from Balvatika to Grade 3 even though the overall goal is to accomplish the required learning objectives by the end of the third grade to raise awareness among parents, the community, volunteers, etc
For instance, a child should be able to read an age-appropriate unknown text with understanding and clarity at a rate of 45 to 60 words per minute by the end of Grade II and at least 60 words per minute by the end of Grade III, respectively.
The development of teachers' capacities will receive particular attention because they will be the group most responsible for NIPUN Bharat's success. NCERT is creating a specific foundational literacy and numeracy (FLN) package for NISHTHA, and about 25 lakh teachers who teach in the pre-primary through primary grades will receive FLN training this year.
Candidates Enrolled under NIPUN Bharat Mission
The mission will concentrate on kids from preschool through grade 3 who are between the ages of 3 and 9.
Children in Classes 4 and 5 who have not yet mastered the fundamental skills will get individualized teacher direction and support, peer support, and graded learning resources that are age-appropriate and supplemental to help them develop the necessary competencies.
All public, government-aided, and private schools must fulfill the mission's aims and objectives for everyone to acquire FLN abilities by 2026–27.
NIPUN Bharat Mission Results
The following outcomes are anticipated as a result of the NIPUN Bharat Mission's goals and objectives being carried out:
The quality of education will increase with activity-based learning and a positive learning environment.
Fundamental abilities help to retain kids in school, which lowers dropout rates and increases the rate of progression from primary to upper primary and secondary stages.
Intensive capacity training for teachers would empower them and provide them more freedom to select the methodology.
Learning will be made fun and interesting by utilizing cutting-edge pedagogies in the classroom, such as toy-based and experiential learning.
Steeper learning curves for kids, may have favorable effects on career and later life prospects.
A Holistic Progress Card will show the child's progress across all of their interconnected and interdependent developmental domains, such as their physical and motor development, socio-emotional development, literacy, and numeracy development, cognitive development, and life skills, among others.
Since practically every kid attends the early grades, focusing on them will also help the socioeconomically disadvantaged group, ensuring that they have access to a quality education that is egalitarian and inclusive.
To help our children reach their full potential and advance the nation, NIPUN Bharat is designed to support and inspire kids as well as their schools, instructors, parents, and communities.
By Class 3, a kid must be able to read with understanding and perform simple mathematical operations.
They need these fundamental abilities to flourish in life.
FLN is given top priority by the National Education Policy 2020.
According to research, Class 3 represents a turning point.
Children only "read to learn" if they have "learned to read" by that point.
Nipun Bharat Mission 2023 Types of Basic Literacy and Numeracy
| | |
| --- | --- |
| Basic Literacy | Phonetic awareness Oral language development Reading flow Writing Decoding Concept of print Culture of reading Reading comprehension Glossary |
| Basic Numeracy | Measurement Size and local society Mathematical techniques Prior Number ConceptsPatternNumber and Operation on Number |
Nipun Bharat Mission's National Scenario for 2023
Bharat Mission's National Scenario for 2023 is as follows:
Considering education
Pay attention to the level of education.
Pay attention to how much children are learning.
Evaluation of Learning Quantities attained
Nipun Bharat Mission 2023 Components
The components of Nipun Bharat Mission 2023 are as follows:
Component
Introduction
DIKSHA/NDEAR: Leverage: A repository of digital resources
Monitoring and Information Technology Framework
Parent and community engagement
Mission Sustainability
Understanding Basic Language and Literacy
Basic Numeracy and Math Skills
National Mission: Aspects and Approach
School Preparation
Mission strategic plan
Academic Literature through SCERT and DIET
Role of various stakeholders in mission implementation
Need for Research, Evaluation, and Documentation
Shifting to Competency-Based Education
Education and Learning: Focus on the potential and development of children
Learning assessment
Teaching-Learning Process: Role of Teacher
Requirement for Basic Language and Literacy
Students' brain development is greatly influenced by their early literacy development.
To improve children's future education, literacy and math abilities should be made available. This will help build a stronger foundation for language learning.
It is crucial to introduce children to fundamental language and reading at a young age since, by the time they are 6 years old, 85% of their brains have already grown.
According to the results of the Mathura pilot project, all children could read comprehension if they were given access to fundamental language and literacy skills.
Basic Literacy and Language
During the elementary school years, writing abilities should be developed through Emergent Writing, Conventional Writing, and Writing Composition.
Understanding of reading and writing
Concept of writing in class
Important Points of NIPUN Bharat Mission 2023
The following are crucial actions to improve language and literacy development:
Sharing experience
Songs and Rhymes
Mid-day meal
Using classroom walls
Drama and Role Play
Picture reading
Share trading
Creating a Print Prosperity Environment
Listening, Telling, and Writing Stories and Poems
Read aloud
Experience writing
Important Elements of Elementary Mathematics
Some of the important elements of elementary mathematics are as follows:
Mathematical communication
Pattern
Data storage
Free number concepts
Measurement
Number and Operation on Number
Size and spatial understanding
Required Elementary Math Skills
The Required Elementary Math Skills are as follows:
Basic numeracy's contribution to employment and household level
To improve one's capacity for logic and reason in daily life
Using numbers and spatial awareness in everyday life
The Importance of Early Years Mathematical Foundations
Basic Mathematical and Numeracy Skills
Using copies to represent numbers
Comparing numbers
Comprehension of quantity
Understanding of how one object relates to a larger collection of objects using copies representing quantities
Gain knowledge of larger or smaller and more or less
Competency-Based Education Features
Some of the competency-based education features are as follows:
This plan can also foster the development of critical thinking and problem-solving techniques.
Students will have a special experience from this.
You can also learn from this where students are having academic issues.
Competency-Based Learning can also help students learn explicitly and thoroughly.
School-Based Assessment's Objective
Educating kids to be good communicators:
Making the child's mother tongue the communicator's language under school-based assessment allows the youngster to make their argument directly to the communicator.
The significance of nonverbal communication
Laughter development
Demonstration by the Deputy Commissioner for Language and Basic Literacy
Child Health
Physical growth
Sports and exercise
The social and emotional development of children
Cleanliness factors
Arranging toys, things, etc.
Getting kids interested in learning
Allowing comprehending the physical surroundings
Promote the creation of stories
Creation of a question bank
Portfolio
Production of audio-visual instruments for evaluation, etc
Providing kids with a range of assignments
Nipun Bharat Mission 2023 Stakeholders
The Stakeholders of Nipun Bharat Mission 2023 are given in the table below:
Central Board of Secondary Education
Civil society organizations
Kendriya Vidyalaya Sangathan
Headteacher
States and Union Territories
National council of educational research and training
Block Resource Center and Cluster Resource Center
District Education Officer & Block Education Officer
School management committee
Private school
Volunteer
Community and parents
Non-government Organization
State Council of Educational Research and Training
District Institute of Education and Training
Various Methods of Community and Family Connection
Some of the various methods of community and family connection are as follows:
A parent-teacher interaction
Running several different programs
Assigning tasks
Sending parents updates on the child's development and school activities regularly
Regular activities are also possible in the neighborhood.
Providing parents with updates on their children's development via email, WhatsApp, etc
Organization of the parenting workshop